Most of us realise that Ragwort needs to be eliminated from our horse's pasture due to the risk of poisoning . It's a noxious weed that quickly grows from the small "rosette" to a tall flowering plant.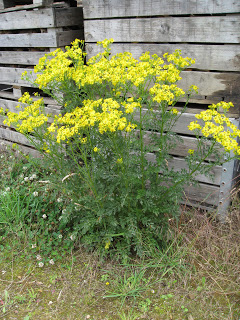 Ragwort contains pyrrolizidine alkaloids compounds that are poisonous to most animals. When Ragwort is eaten it is changed by the intestines and then broken down by the liver, the breakdown products formed in the liver are toxic, it is damage to liver cells that can, if sufficient ragwort is consumed be cumulative to the point of death.
Signs of Ragwort poisoning : include weight loss, weakness, sleepiness, yawning, incoordination, yellowish discoloration to mucous membranes (icterus), neurologic problems such as aimless walking, chewing motions, head pressing. Animals may appear to be normal at first, then become suddenly affected; the syndrome progresses rapidly over a few days to a week. Liver damage, depression, anorexia, vomiting, diarrhea, muddy mucous membranes, weakness, ataxia.
How to identify Ragwort
The Ragwort plant grows in a cirular cluster of leaves often described as a rosette,
as the Ragwort grows the leaves become wavier, as you can see in the photographs the adult leaves below are quite different to those of the young plant above.
The daisy like yellow flowers appear from May to October
and if allowed to go to seed each plant can produce 150,000 seeds, with a 70% germination rate.
So it's important to remove Ragwort from your pasture before it goes to seed, ideally at the rosette stage.
Here are a few photographs to help aid identification, you can left click on the photographs to enlarge them.
Leaves.
Ragwort flower buds.
Ragwort flowers.
Ragwort flowers.