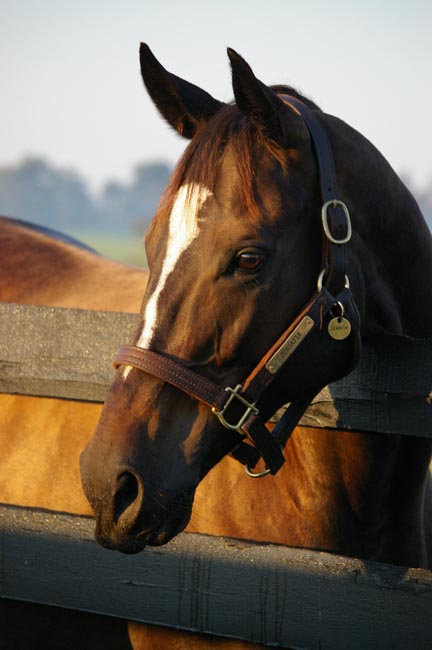 Photograph available for purchase from the Zenyatta shop

17.2hh, bay mare,  Zenyatta the hugely popular American Thoroughbred out of Vertineux by Street Cry hit the news big time again on 8th March with the birth of her first foal, currently known as Zenyatta's Prince,  by Bernadini.
Zenyatta owned by A & M Records Jerry Moss was named after the  Police album Zenyatta Mondatta. Born on April 1st, April Fool's Day, in 2004 she was sold as a yearling to Jerry Moss at the bargain price of $60,000 because she was suffering from ringworm.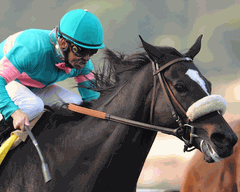 Photograph available for purchase from the Zenyatta shop
During her racing career Zenyatta, known as the "Queen of Racing" achieved the following:
Her Breeders' Cup Ladies' Classic was the second-fastest in Breeders Cup history at 1:46.85 for 1⅛ miles.
On November 7, 2009, Zenyatta became the first female to win the Grade I Breeders Cup Classic and the first horse ever to win two different Breeder's Cup Races.
The 2010 Apple Blossom Handicap marked her 16th win in a row, tying the record held by Citation and Cigar for consecutive victories in unrestricted races.
With her win of the 2010 Vanity International Handicap she broke the all-time North American record for consecutive wins in unrestricted races (17 wins in 17 starts).
On August 7, 2010, at the Clement L. Hirsch Handicap, Zenyatta broke the world record (set by Rock of Gibraltar) for consecutive (8) Grade/Group I victories and tied the legendary Eclipse with 18 consecutive victories without defeat.
Winning the 2010 Lady's Secret Stakes, Zenyatta broke the all-time North American record for Grade/Group I victories by a filly/mare. She tied the all-time North American record for consecutive victories without defeat, and broke the all-time North American female earnings record. She is also the first mare to win this race 3× (consecutive years).
Zenyatta set speed records in the 2008 El Encino Stakes (1:40:61) and the 2008 Lady's Secret Stakes (1:40:30).
She is the first mare to win Vanity International Handicap, Clement L. Hirsch Stakes, and the Lady's Secret Stakes for 3 consecutive years.
Zenyatta holds both the speed record and record for most wins in the Lady's Secret Stakes. Her connections Ann & Jerry Moss, John Shirreffs, and Mike Smith hold records for most wins (four) by an owner, trainer, and jockey respectively.
On January 18, 2010, Zenyatta won The Eclipse Award for Top Older Female of the 2009 Season.
She was named by Oprah Winfrey to the 2010 "O Power List" in O Magazine.
Zenyatta was selected three years in a row (2008–2010) for NTRA's Moment of the Year Award, for her 2008 Ladies' Classic victory, historic 2009 Breeders' Cup Classic victory, and narrow defeat in the 2010 Breeders' Cup Classic.
On January 17, 2011 Zenyatta won the Eclipse Award for Top Older Female and Horse Of The Year of the 2010 season. The voting for Horse of the Year was 128 for Zenyatta to 102 for Blame, with 5 votes for Goldikova. It was Zenyatta's third nomination for Horse of the Year, and her first win.
On January 20, 2011, Penny Chenery announced that Zenyatta was named the 2010 recipient of the Secretariat Vox Populi Award.
On March 23, 2011, Zenyatta became the first horse to win the William H. May Award. The award honors an individual or group that has provided "meritorious service" to the industry. Past recipients include racing industry greats such as John R. Gaines (Breeders' Cup founder), Joe Hirsch (founder of the National Turf Writers Association), Bob and Beverly Lewis, Stanley Bergstein and Richard Duchossois.
On May 10, 2011, Zenyatta's story kicked off the "Inspire" segment of the 2011 Professional Business Women of California (PBWC) Conference.  This organization was founded by California Congresswoman Jackie Speier. Ann Moss, Dr. Dawn Hunkin, and Dottie Ingordo-Shirreffs and several thousand people attended as Zenyatta was presented with a PBWC Honorary Membership.
Zenyatta was the first horse to receive an Honorary Membership to the San Pedro Assistance League. Her photo proudly hangs in their official conference room.
Retired in 2010 Zenyatta is now a mother with her own Dairy :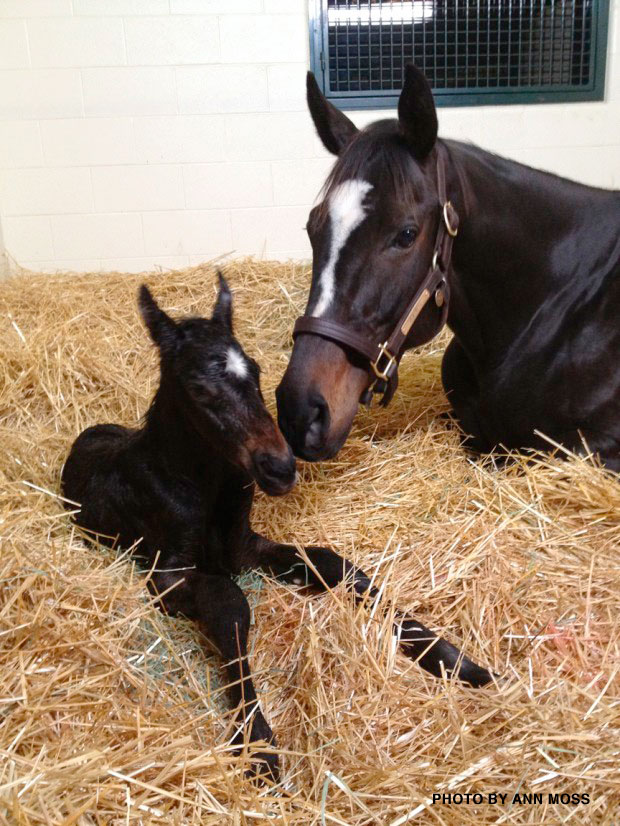 Dear, dear, dear friends,
I am so proud and elated to share the news with you that I am now a MOM. I just gave birth to a lovely dark bay COLT, March 8th, at approximately 10:10 p.m. Eastern Time.
My adorable foal weighed in at 130 pounds, has a white star on his forehead….and some white on his feet. As Ann commented when she saw him, "he has polka dots on his feet, Zennie, just like YOU."
All went very well with the foaling. I must say….I did it like a CHAMP!
My foal is absolutely precious…and I am so pleased to share this entire experience with all of you…my precious and loving friends.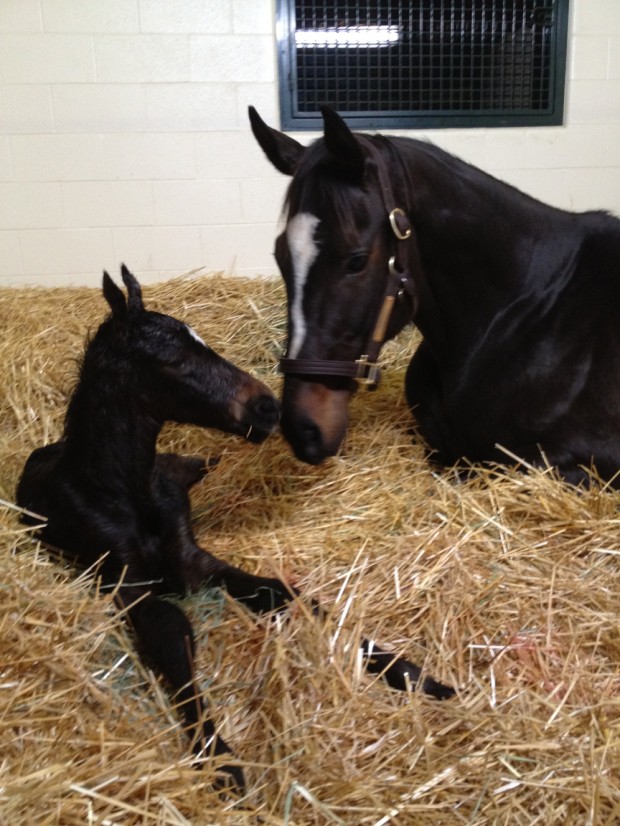 Photo by Ann Moss.
We are all still just getting acclimated to this entire new experience. I'm doing great. MY BABY is doing great….and Bernie is also excited! I'll update you again with some more photos in the morning.
All blessings to each of YOU….and THANK YOU FROM THE BOTTOM OF MY HEART….for being there for ME and SHARING THIS WONDERFUL PART OF MY LIFE WITH ME!
With Love,
Hugs to All~(Can you believe it…..I'm now a MOM!)
Z