Misty and Marguerite Henry. Image: The Misty of Chincoteague Foundation
In 1947 Marguerite Henry 's book Misty of Chincoteague was published with illustrations by Wesley Dennis, it was an instant success. Marguerite often often wrote about animals, such as dogs, cats, birds, foxes and mules, but she mainly wrote about horses and Misty of Chincoteague is one of her best loved books.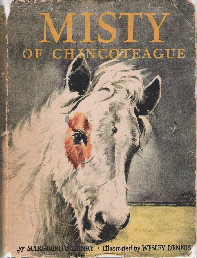 Misty of Chincoteague book cover. Image: Jane Badger Books.
 In the book "Misty is the golden foal of a bay filly called the Phantom - because she is uncatchable. The ponies of Assateague Island spend the year running wild on saltgrass and facing storms, then once a year the firefighters of neighbouring Chincoteague Island round them up and swim them across the channel to sell some of the foals. Phantom is only caught because she has a foal at foot, and two children keep the pair together. Their grandfather helps them raise the foal and break in Phantom, and the boy decides to ride Phantom in a pony race. However having demonstrated her speed, Phantom sees a wild stallion back on Assateague who calls her, and she swims back to him leaving the children with her foal, Misty." Clare O'Beara
In reality Misty wasn't a wild pony and neither was her dam Phantom. Phantom was a smokey black tobiano pinto who belonged to Clarence "Grandpa" and Ida "Grandma" Beebe of Chincoteague Island, Virginia. Misty, a 12 hh palomino tobiano and sabino pinto with the map of the United States on her side and a blaze shaped like the state of Virginia, was foaled July 20, 1946.  She was by a chestnut tobiano pinto named Pied Piper out of Phantom. Misty was sold to Marguerite Henry for $150 when the author agreed  to include Maureen and Paul Beebe, Clarence and Ida's grandchildren in the book.
Misty and Marguerite Henry. Image: Horse Tails
Misty lived with Marguerite Henry in Mole Meadow, Wayne, Illinois for over 10 years, she appeared for her fans at schools, movie theaters, museums, libraries, and horse shows. In 1957, after a farewell party with over 300 children and 160 adults in attendance, Misty returned to Beebe Farm as a brood mare.

Misty and Stormy. Image: the wire
Misty had  three foals, Phantom Wings, Wisp O' Mist, and Stormy all by the chestnut pinto Chincoteague Pony, Wings. Misty's last foal Stormy was born after  the Ash Wednesday Storm of 1962, her barn flooded during the storm, so she had to live in the Beebe 's kitchen for three days. These events inspired the book Stormy, Misty's Foal, a work of fiction but based on real people, ponies, places, and events.

Grandma shooing Misty out of the Beebe Farmhouse movie still. Image: allthingsmargueritehenry
In 1961 Twentieth Century Fox made a film of the book Misty of Chincoteague called Misty, it was mainly filmed on Chincoteague and Assateague and most of the actors were local people. Three ponies, a suckling, a weanling, and a yearling, played the part of Misty. Misty herself was at the premiere of the film on Chincoteague, she was led down Main Street by Ralph Beebe and her front hooves were placed in cement in front of the theatre creating hoof prints that were then signed Misty by Marguerite Henry.
Misty taxidermied. Image: Painting Pony
Misty died in her sleep on October 16, 1972 at age 26, she was taxidermied and is now displayed, along with Stormy who died in 1993, at the Chincoteague Museum.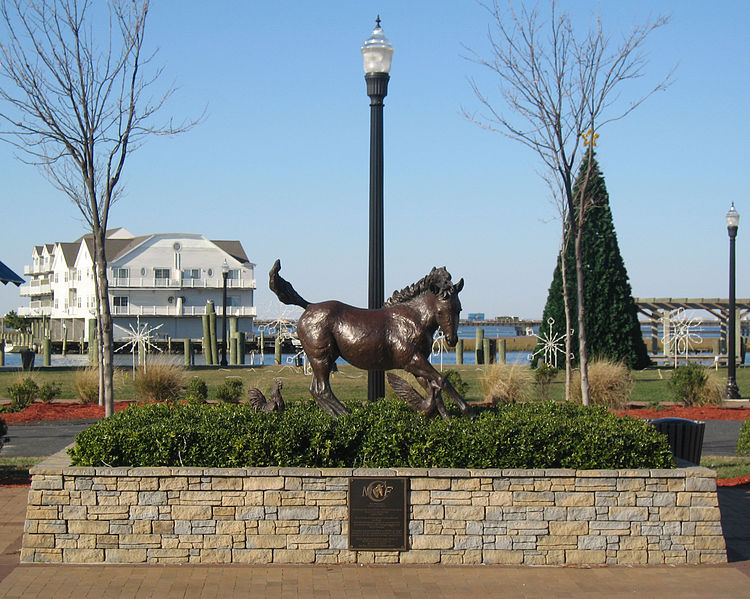 Misty of Chincoteague statue. Image: Leonard J. DeFrancisci
Statues of Misty were placed in both Chincoteague and Kentucky Horse Park in Lexington, KY in 1997. There have also been several Breyer models of her released over the years.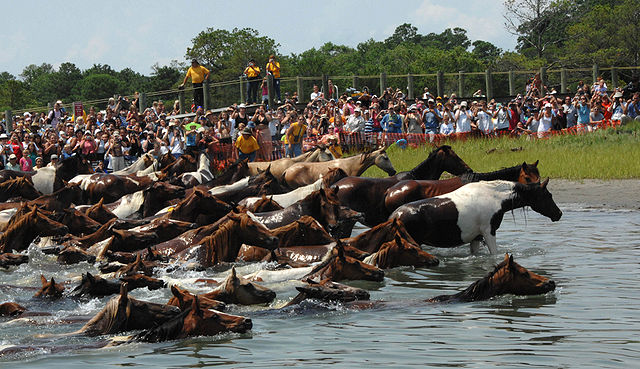 Chincoteague Pony Swim. Source: Wikipedia
The Wild Pony Swim, written about in Misty of Chincoteague still takes place  on the last consecutive Wednesday and Thursday in July to raise money for the Chincoteague Volunteer Fire Department. Salt Water Cowboys round up Chincoteague Ponies from Assateague Island and drive them across the Assateague Channel to the Chincoteague Carnival Grounds where some of the foals are auctioned off on the Thursday. The unsold ponies are driven back across the channel on the Friday. Partly due to the popularity of Misty of Chincoteague this event now draws from 40,000 to 50,000 spectators.  You can watch the Chincoteague Pony Swim in the following video: