Left: Gigi & Anne, right: Flurry & Martine
This week our Horse of the Week is a little different, it's not just one horse but two and two very special horses, Gigi and Flurry, who with their owners, The Wanderly Wagons are trekking across France to raise funds for Irish Dogs for the Blind.
Below Martine & Anne tell us about the horses and Le Big Trek:



It's a huge honour for Gigi and Flurry to be on Horse of the Week – this slot has been occupied by some truly illustrious equines, who competed at the highest level in their sports.
Flurry and Gigi are just two ordinary horses who have been "volunteered" by their owners to participate in something extraordinary.
Flurry is a seven year old cob gelding of unknown parentage and Gigi is a fourteen year old Irish Sport Horse mare, out of an Young Golden mare and by the ID stallion Currabawn View. The two horses are owned by Happy Hacker friends, Martine Greenlee and Anne Renshaw who are in the early stages of a long-distance trek across France.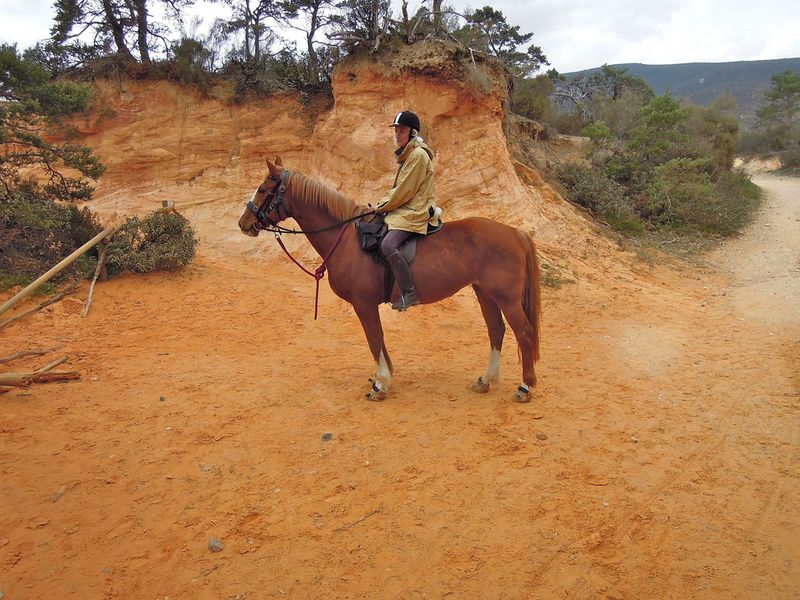 Gigi
The friends, equine and human, are undertaking this trip to raise much-needed funds for Irish Guide Dogs for the Blind, or more specifically, the program for assistance dogs for families of children with autism, which is run by IGDB alongside their Guide Dog program. Their goal is to cover 500 kilometres, from Céreste in Provence, northwards through the departments of Vaucluse and Drome. After Drome, they will relocate to Burgundy and continue to travel north, finally ending up near Dijon.
The four have been in training in Provence since December. The horses have become acclimatised to French weather and food (as have their owners) and have been hacking around the Luberon, becoming accustomed to French sights and sounds.
The two horses are a great pair, who work really well together. Flurry normally marches out in front, and will pass pretty much anything he meets. However, if he ever sees something which gives him pause for thought, Gigi just keeps walking along, passes Flurry and the offending "spook" object, while giving Flurry a dirty look as she passes, as much as to say "For goodness sake, young man, it's only a plastic bag!"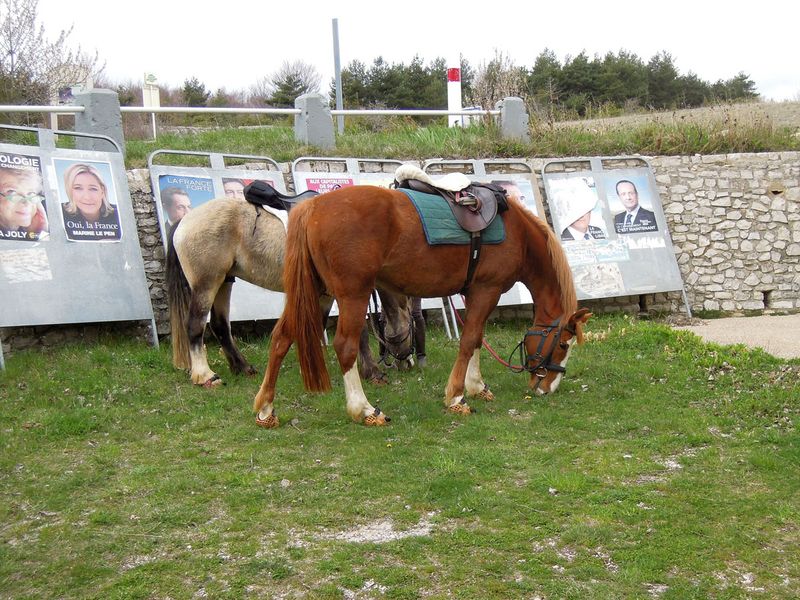 Gigi & Flurry not impressed by the French presidential candidates!
Being country horses, they are not at all accustomed to passing through built up areas, so the first few times they entered the local villages, both horses were extremely tense and spooky. The approach road to every French village seems to be lined with ferociously barking dogs, but at this stage the horses are confident that the dogs can't escape and keep strolling on!
Flocks of free-roaming dairy sheep (brébis) and goats, herded by shepherds with dogs, were a problem initially. Some of the goats wear bells, and the sight and sound was too much for the horses! However, they've become accustomed to the brébis by now, along with roaring donkeys, air-raid sirens, swooping buzzards, motorbikes, vintage cars, bicycles and low flying French Air Force jets, which come screaming through the valley regularly. The most bizarre encounter to date has been a roller skater, who came gliding blithely down a mountain road, with a cheery "bonjour!"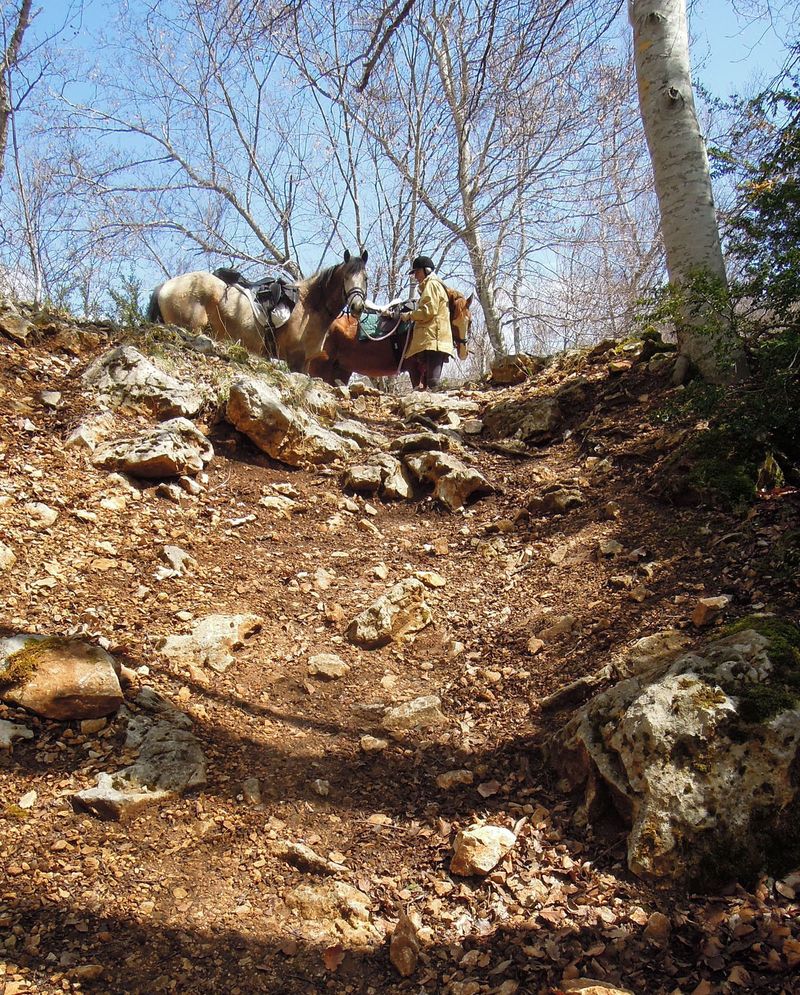 Gigi & Flurry - Monts de Vaucluse
They are currently in the early stages of the journey and have covered approximately 60km. The toughest section so far has been the climb up the Monts de Vaucluse. The trail climbs steadily for 8km, but at a couple of points it becomes an almost vertical rock surface, with natural rough steps along it. The two horses put their hearts into the whole ascent and tackled each difficult stretch bravely. Although they were very much tired and sweaty after the ascent, after a short break they were ready to carry on again, and kept going for another 8km that day. Martine and Anne feel it is better to finish while the horses still have some energy left, and are gradually building fitness levels, with the aim of averaging 25km per day.
The horses were only introduced to each other in August last year, but have become firm friends. Their bond will only become stronger, as they continue on their mammoth journey across France. Follow their story on The Wanderly Wagons blog, or better still, visit their charity page The Wanderly Wagons and Le Big Trek