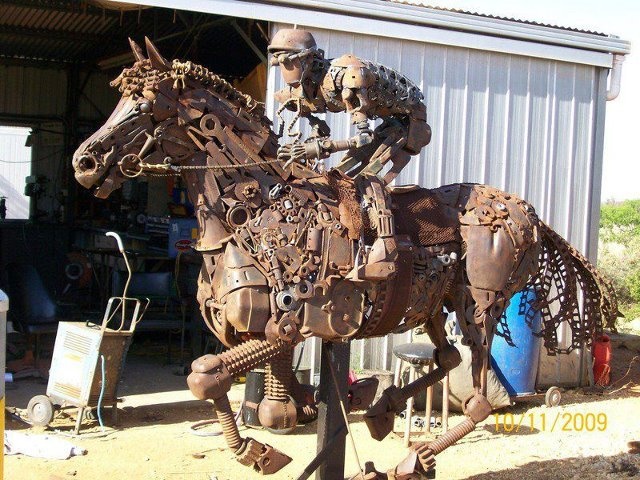 Amazing work by Andrew Whitehead.
Andrew Whitehead 's sculptures are made from a long list of scrap metal, including stuff  like cogs off a combine,  engine wheels, steering boxes, plough linkage,  tow balls, shearing combs, truck brake-lining, even cement mixers.
Andrew, a plant operator from Urana, in the NSW Riverina, Australia, learned his skills at the age of 40 during an adult apprenticeship as a mechanic with the Urana Council which he took after a 20 year career in the army.
"I learnt skills I never had and they put me in contact with a lot of the scrap around the shire."
His first work was a half-tonne cow made from an old metal tank found lying at home.
"We'd been driving by it for 20-odd years and I said I'm going to do something with that one day.
"I'd just finished it and someone said why don't you enter it into that sculpture competition over at Lockhart."
He entered the Spirit of the Land festival and won.
"So I thought maybe there is something in this for me."
Last year he finished a $25,000 commission, a shearer and two sheep, for the township of Muttaburra in Queensland.
And he's just been commissioned to make a swagman and a dog for Boree Creek, but needs to look further afield for material.
"I've pretty well cleaned up what I can around here, now I have to go to Wagga and buy it from scrap metal yards."
Mr Whitehead had hoped to become a full-time artist but said the art market wasn't strong enough to sustain him.
"That shearer probably took the equivalent of six months full-time work, so $25,000 is not a lot when you take out overheads for the materials and electricity and all that.
"But it's a great hobby, I love it." The Border Mail
Andrew has decorated the entrance to his 100ha farm with quirky metal sculptures of a kangaroo, spider and catapult.
The 250kg kangaroo and her joey, called Roobot, took "four months and 30 slabs of beer to make". Weekly Times Now
Here's a link to a site used by Andrew, he wrote about and posted photographs of work in progress of a sculpture of an Australian Wedgetail Eagle
Andrew has a Facebook page https://www.facebook.com/AndrewWhiteheadSculptures
If you liked this you might also like Heather Jansch 's Driftwood Horses