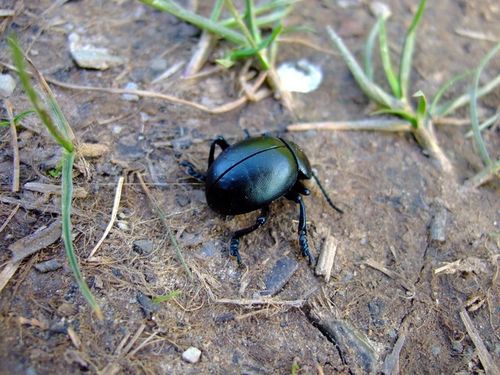 Dung Beetles  are brilliant recyclers who perform a vital clean-up role. Dung Beetles eat dung, they feed on faeces, they move it around, they bury it, they lay their eggs in it and they live in it.
"Without dung beetles, we would be up to our necks in dung."
Dung Beetles breakdown  dung and recycle nutrients back into the soil improving soil structure and fertility.  By removing dung they reduce the number of breeding sites for flies and other pests.
It's said that in some parts of Texas, USA the Dung Beetle is responsible for the removal of 80% of cattle manure.
Species: About 8,000 worldwide
"By completely and quickly removing the manure, dung beetles can significantly enhance grazing efficiency"
And the good news is that most species of Dung Beetle (though not all) prefer the dung of herbivores, that's right they love horse poop and will help clear it away for you.
The bad new for the Dung Beetle is that there are fears that chemical traces of ivemectin (from worming) can kill adult Dung Beetles. Keeping your horse in for a few days after worming can help prevent this.