It is foaling season so I decided to learn about colostrum banks today…
In case you have a foal coming and would also like information, here is a link to Rood and Riddle Equine which has a colostrum bank.
I was also thinking about how a nursemare milk farm/colostrum bank on the West Coast might be a new revenue stream for certain qualified rescues who have many broodmares that are not adoptable for one reason or another but are young enough and who love to mother.  I was thinking how great it would be to have ready Hormone Induced Lactation mares (here is my article about HIL mares) who would be available for nurse foals (from the TB industry) or for abandoned/orphaned foals.
Hmmmm.
I'm sure to operate a Mare Milk Farm there is a bit of chemistry/collection/ storage that has to be mastered – like semen processing.  And, I'm sure it isn't easy to get started.  But… what a noble business.
Now, last time I said this was noble when discussing HIL mares, I got a lot of flak from people who said it was unfair to use hormones to make these mares produce milk.  And, it probably is – a bit.  But, from my experience, I have 5 mares here and 2 of them LOOOOOVED being  mothers.  Right now, as open mares, they still coo at every baby that comes around and fiercely 'take over' any young horse who visits here.
I think they would be the type of mare for this job…
And, if a rescue decided to do this, I'm sure it would take about a minute for them to be inundated with mare offers from other neighboring rescues.  So, I think it would be the responsibility of the Mare Milk Farm developer to figure out the criteria for a nurse/milk mare.
If I was a 501 and a rescue, for me, I would find creating and marketing a Mother's Milk Bar a very interesting and worthy challenge.  Nothing is more heartbreaking to me than to lose an innocent foal because of nutrition or lack of anti-bodies…
Speaking of which, Nurse Mare Foal Season is upon us!
I wrote this piece a while ago but it is current still this year.  My heart melts for all of these poor babies from the Nurse Mare Industry.
Since I don't have a Bucket Fund going yet, anyone who wishes to donate to the babies can use our Bucket Fund and I will donate to THE LAST CHANCE CORRAL.  They take a huge number of these orphaned babies annually.
NURSE MARE FOALS… ANOTHER SEASONAL EVENT
So this topic may send some people into an uproar as nurse mare foals are a  by-product of another industry.  However, I am only writing this to comment on the foals and hopefully help these little guys have a life.  To me, if a human creates a foal, then it would be nice for a human to help it survive. All the other stuff, I'm not touching.
A nurse mare foal is the by-product of creating a nurse mare.  A nurse mare is an equine wet nurse.  Nurse mares are needed to nurse foals who's natural mother has been taken away to be re-bred.  The newly orphaned "more valuable" foal is moved onto the nurse mare.  The original foal of the nurse mare is outta luck.
People say that this doesn't happen.  I think that argument would come as a surprise to the well established rescue facilities that take as many of these foals as they can afford — every foaling season.
VEILED
Also, you might want to reconsider purchasing any Cordovan Leather products.  'Nuff said.
I have a real soft spot for innocent babies who are abandoned, sent to slaughter (which is supposed to be illegal) or brought into this world to be left out of it.  So, today, I wanted to bring your attention to the wonderful rescue facilities that gear up every Jan/Feb to take as many of these orphaned babies as possible.  The most prominent rescue is called, LAST CHANCE CORRAL.  After years of experience saving horse babies, they have the procedure down pretty well.  After all, it isn't easy caring for foals that are in shock, have just been wrenched from their Mothers, have not had any care, and just traveled miles in a trailer after being smashed into holding pens.
I got hooked after seeing heart wrenching photos of these tiny, sweet faces in a fresh clean stall, milling about.  It was adorable and hopeful.  There were buckets of lovely fresh milk replacer all around and several of the foals had milk moustaches.  I loved seeing all the different breeds of babies mingling together.  I also loved that the caretakers were tending to the sick and tiny with around-the-clock attention.  I know that not all of them make it, in fact, not all of them get even close to this facility.  However, it warms my heart that these folks care enough to help.  Sadly, I cannot find one of those adorable group shots today.  But, I will find it and post it later.
Anyway,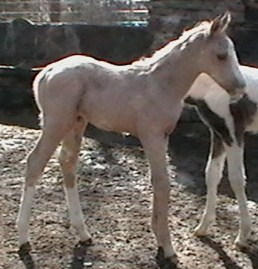 it breaks my heart to see these man-made babies thrown out as if they were trash.
WHAT CAN WE DO?
Well, there are lots of adorable babies listed on the site that are available for adoption, sponsorship or just a helpful donation.  And, they have tons of information on other ways to help.  I know they need funds for all the medical needs, the milk, shavings, hay… you know the drill.  For me, I would just love to ship all the babies right home to me here.  I have done that before with a weanling.  He was just 5 months old (Aladdin).  I used Bob Hubbard transport.  Aladdin traveled from Vermont to Oregon with not a scratch.  They took great care of him and made sure he rode near mares and other young horses to keep him company.  So, if you want one…
I guess what I'm saying is that if you were looking for a young, well socialized, grab-bag baby, here is your chance!  The good news is that the adoption fee is minimal.  The bad news, maybe, is that you might not know what you are getting as far as breed.  But, for me, I LOVE THAT!  I'm a real Grab Bag girl.  I can remember bugging my Dad to get "grab bags" at the SF Carnivals all the time.  He'd say, "here's another waste of a quarter…", but I would love my unexpected treasures.  I actually still cannot resist a Grab Bag.  Just last summer, I went to a rock and mineral show (don't ask) and had to purchase the $2 Rock Grab Bag.
Two years ago, I ended up with a Grab Bag Foal when I rescued a starved, wild mare from the Fallon Feed Lot.  That baby is GORGEOUS.  And, you can teach your baby anything you want.  So, if you have the room/time/funds, I highly recommend bringing home baby.
Also, as an aside, there is a network of folks who help trailer these babies to new homes. Just ask on the website.  I did see one this morning for the East Coast.  It says:
"Who Needs a baby Hauled East?!
If anyone is looking to adopt a baby, Kathy Lee will be coming out during mid-April with a trailer!
If you are interested in having a baby "carpool" to the Rhode Island area, give the farm a call to set it up!"
OTHER WAYS TO HELP

But, you don't have to actually adopt a baby, just spread the word or donate your Starbucks money.  Every little bit helps.  For example, here is a list of all the stuff they need this year;
1. G.U.T. (Uckele products) Goes in EVERY bucket of milk
2. Pro-LYTE electrolytes (Uckele products) Goes in EVERY bucket of milk
3. Bio-sponge (Platinum Vet)
4. Ulcer-Guard (Merial)
5. Baled Shavings, Semi-truck loads (pine or cedar)
6. Vanilla Yogurt (any brand) Goes in EVERY bucket of milk
7. Probios – *powdered* (so I can add it straight into the milk) Goes in EVERY bucket of milk
8. Disposable syringes (3,6,12,20cc)
9. 60cc catheter  tip syringes (oral meds)
10. 20 gauge x 1″ needles
11. Diarsanyl
12. VBG DiaGel
13. 8 quart flatback Fortiflex buckets (red or black preferred)
14. 20 quart flatback Fortiflex buckets (red or black preferred)
15. Wheelbarrows
16. Manure forks
17. Lactoferin (Uckele)
18. Colostimune (Uckele)
19. Herbal-Mune (Uckele)
20. Stop Stress (Uckele)
21. LBC Paste (Uckele)
22. Immunophagen EQ (Uckele)
23. Lactamune (Uckele)
24. Absorb All (Uckele)
25. Bio-Quench (Uckele)
26. Phyto-Quench (Uckele)
28. Respun (Uckele)
29. Base Mix P55 (Uckele)
30. Cocosoya (Uckele)
31. Foal blankets
32. Foal Halters
33. Grain/Hay (Best of Quality)
34. Milk Pellets
35. Milk replacer
36. Volunteers
37. Money to pay employees (4-6 people a day for all these babies/adult horses)
IN CONCLUSION
If this moves you at all, please do whatever you'd like that makes you feel better.  I just did!  Thanks for reading.