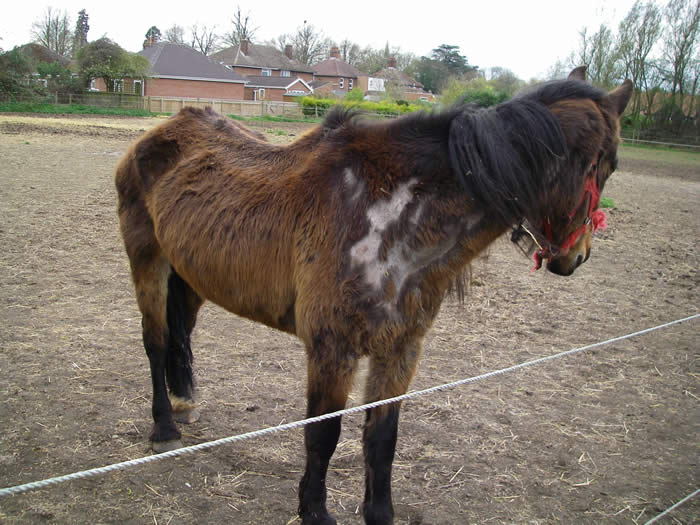 Pippa when she was found
Bay mare Pippa is making great progress at Redwings Horse Sanctuary following a re-homing request from the RSPCA.
Eleven-year-old Pippa was first seen by RSPCA Inspector Jon Knight, who seized the Cob cross, along with five other neglected ponies, after finding clear signs of neglect.
The former owners pleaded guilty to twelve counts of cruelty – resulting in a three-year ban on keeping equines. Pippa and her friends were signed over to the RSPCA; however, it is only since October that Pippa has been well enough to be moved to her new home at Redwings.
Pippa was severely underweight, had a combination of a heavy worm burden and lice infestation which had left her with large bald patches around her neck and shoulders. However, she is now looking like a different horse following the care and attention from the RSPCA's dedicated staff.
Currently, Pippa has a prickly nature towards humans, possibly a result of her neglect, and it was for these reasons that the RSPCA contacted Redwings in an attempt to secure her future.
Rachel Angell, Senior Welfare Officer for Redwings, said: "Pippa is now back to her beautiful best – as the latest pictures clearly show. However, she has had a traumatic past and, as a result, she can be difficult at times, which is why she may prove more challenging to re-home."
"However, she is certain of a happy future here at Redwings, where she can receive all the extra handling and care she requires."
And as she looks now (cheeky!)
Redwings currently provides sanctuary to 1200 horses, ponies and donkeys, with a further 500 in Guardian ownership. See www.redwings.co.uk for further details.