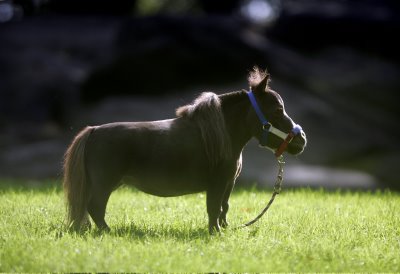 Thumbelina of Goose Creek Farms, St Louis, Missouri, USA was certified in 2006 in the Guiness Book of Records as the world's smallest horse. She stands at only 17 ½ inches tall (44.5 cms) and weighs only 57 pounds, smaller than many dogs.
Thumbelina 's extraordinary dimutive size is due to dwarfism, her parents were normal sized miniature horses  standing at about 29 inches but Thumelina weighed only 8 ½ pounds at birth. Michael Goessling, son of breeders Kay and Paul, said in an interview with the Daily Mail
'When she was born, she was so small we thought she wasn't going to make it, She weighed eight pounds when she came out and she looked very ill. We feared the worst. Because her legs are proportionally smaller than her body and her head, she has to wear orthopaedic fittings to straighten them a lot of the time. But we love her and wouldn't want her any other way.'
But Thumbelina thrived and as the tiny chesnut mare became famous the Goessling's decided to create the 'Thumbelina Charitable Foundation' in an attempt to direct all of the attention and affection that she was receiving from around the world toward needy children. Thumbelina travels around the USA promoting the charity in her own stable on wheels the ThumbyMobile. It's a 30 ft RV converted into a horsebox with air conditioner and a side-loading ramp. It also carries her food, bedding, grooming supplies, and even the dog house that she sleeps in at home.
Thumbelina travels thousands of miles a year to raise funds for the following charitie, for more information visit Thumbelina's own website
Hospitals

St. Jude Children's Hospital

Shriners Hospitals for Children

St. John's Mercy

Kentucky Children's Hospital

Children's Specialize Hospital

Scheider Children's Hospital

Cabell Huntington Hospital

WVU Children's Hospital

Hasbro Children's Hospital

Children's Hospital of Buffalo

Lutheran Children's Hospital

Children's Mercy Hospital

Children's Care Hospital & School

MeritCare Children's Hospital

National

Foundation for Children with Cancer

Ronald McDonald House

Tiger Woods Foundation

Catholic Charities

March of Dimes

Big Brothers Big Sisters

Special Olympics

Girls and Boys Town

Toys for Tots

Variety

Easter Seals

Autism Society of America

Therapeutic

Fieldstone Farm Therspeutic Riding Center

Equestrian Therapy Program

Camp Casey

The Painted Turtle

Children's Homes, Schools and Shelters:

Edgewood Children's Center

St. Joseph Children's Center

Youth Villages

Klingberg Family Centers

Nokomis Child Care Centers

Pendleton Academies

Hays Shelter Home

Marygrove

Others

Little People of America

Big Apple Circus

Circus Flora

Shriners Circus

Local-Regional

KidsSmart

The Tomorrow Fund