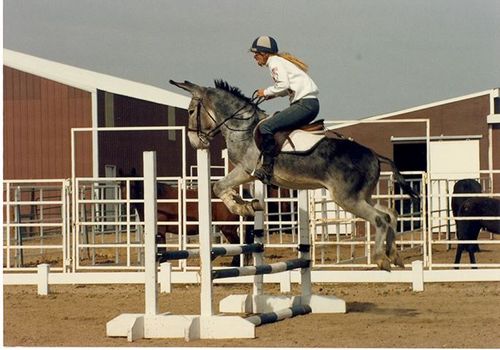 Little Jack Horner jumping - a favourite activity
Retired, thirty-three year old, thirteen-hand Little Jack Horner is the only donkey in the world to jump four feet in exhibition with a rider on board. His accomplishments also included Second Level Dressage and Reining with spins, flying lead changes and a 15-foot sliding stop.
"Since Little Jack Horner, our donkey jack and sire-supreme, has so many friends, I thought you would all enjoy seeing him schooling for jumping in the arena when he was much younger...he is now 33. We have put in an application for him in the Bishop Mule Days Donkey Hall of Fame and believe he should be included for his accomplishments in English/Western Pleasure, Trail, Reining (with flying lead changes, sliding stops and a 15-foor slide), gymkhana events (Barrels, Pole bending, Keyhole), driving, Second Level Dressage and Jumping...his very favorite activity! He's always been an over-achiever and we are so proud of him!" via Facebook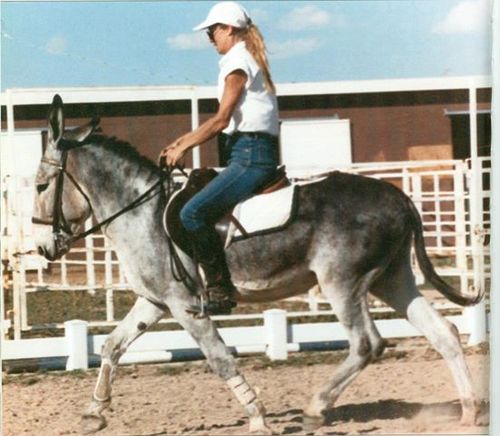 With proper dressage training, it took two years to establish a good working trot with Little Jack Horner. After establishing good forward impulsion at all three gaits, two more years of practice insured that his lateral movements were done in an uphill balance with his hindquarters fully engaged.
Little Jack Horner is immortalized in bronze

Little Jack Horner belongs to Meredith Hodges, daughter of of Peanuts creator, Charles Schulz, owner of Lucky Three Ranch.  Meredith Hodges is a judge, Animal Inspector and Representative of the American Donkey & Mule Society.