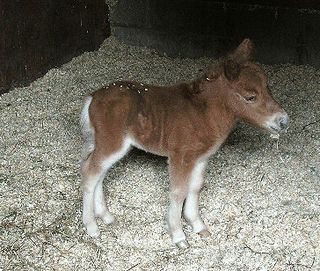 These photographs are of our friend Jane's day old Shetland pony foal.
Shetland ponies come from the Shetland Isles in Scotland where they have lived for over 2000 years making the Shetland Pony the oldest of the British Native Breeds. Archaeologists excavting Bronze Age sites on the Shetland Isles so it is believed that the Shetland Pony has been domesticated since the Bronze Age.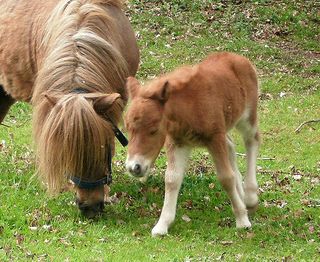 Winters in the Shetland Isles can be very harsh and the smallness of the Shetland pony enabled it to survive sometimes by eating seaweed on the beach. Shetland ponies are very hardy, very strong and long lived.

A true Shetland pony shouldn't be any heigher than 42 inches (107cms), measured at the withers, they should have small heads with long manes and tails and they come in all horse colours except spotted.