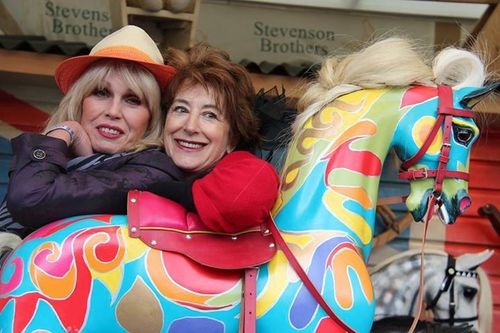 What do Johanna Lumley and Maureen Lipman have in common?
The rocking horses in the photograph are a clue here.
Both Maureen Lipman and Johanna Lumley have desingned rocking horses for Chiva Africa's "Rocking all over the World" celebrity auction.
CHIVA Africa sends teams of doctors, nurses, psychologists, dieticians and pharmacists from the UK to South Africa to train South African healthcare professionals on how to treat children and babies living with HIV. Together with healthcare professionals living and working on the frontlines of the HIV/AIDS epidemic, CHIVA Africa ensures that tens of thousands of children get the vital treatment they require to enable them to lead healthy lives. Visiting teams work with local doctors and nurses in the worst affected areas to develop the practical skills needed to manage HIV as a chronic illness in children and adolescents.

CHIVA Africa has enlisted an impressive line-up of celebrity artists and artistic celebrities to design and decorate wooden rocking horses  for auction at an exclusive event at SOTHEBY'S on 14 November 2013.
"Rocking all over the World" will raise funds for CHIVA Africa's Paediatric and Adolescent AIDS  Programme in South  Africa. 100% of funds raised will be used to further the programmes run by CHIVA Africa in South Africa.
All rocking horses have been individually created and signed by the artists.
 These future heirlooms will be auctioned at an invitation only event on November 14th  2013. All lots will be available for absentee/pre-auction bids. The form will be available to download from the Stars Rocking website soon. In the meantime if you require any additional information about the horses or the event  please contact : [email protected]
Image: Stars Rocking Facebook page