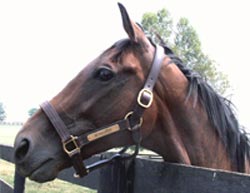 Popcorn Deelites claim to fame is that he starred in the film Seabiscuit with Jeff Bridges, Toby Macguire and Chris Cooper. He was one of 6 horses who played Seabiscuit in the film, each was chosen for their special Seabiscuit like abilities. Popcorn Deelites can be seen breaking from the starting gates and in the actual racing scenes as Seabiscuit.
Born in 1998, a blood bay with dark points, by  Afternoon Deelites out of Turquoise Gal (by Navajo), Popcorn Deelites ran 58 times. He won 11 of his races and accumulated $56,880 in winnings.
After his starring role Popcorn returned to racing until he was purchased by Michael Blowen of Old Friends, a retirement home for racehorses for $1,500. He now lives at Old Friends, Dream Chase Farm in Georgetown, KY, USA where he can be visited by his fans, please see the Old Friends website for details.
"Every horse is good for something." Tom Smith, Seabiscuit.